Give your business the protection it deserves
If you have to keep spending time researching the latest security solutions on the market or the newest forms of malware, you'll never have time to get real work done. Lowcountry Technologies lets you and your employees focus on your job, instead of worrying about security. We help you execute a robust IT risk assessment and ensure data protection, so you can maximize your efficiency.
With hacking methods and viruses advancing every day, your data security needs to stay current. To confidently say your business is protected, you need constant network monitoring, intrusion detection, and advanced threat management. We work closely with you to design and implement a plan that fits your needs. As your security consultants, we're available 24/7 to answer your questions and protect your business.
IT CONSULTING
We are dedicated to creating strategies that ensure a seamless IT landscape which support your business processes and drives valuable business initiatives.
MANAGED CLOUD
We utilize our technological insights in creating a scalable, flexible and automated business environment with efficient cloud management services.
CLOUD COMPUTING
We ensure cost-effective cloud computing that saves you the cost of investing in hardware while also providing IT solutions and support.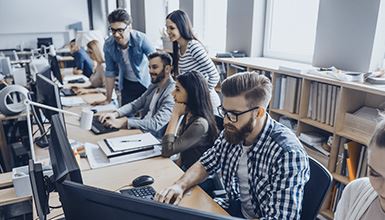 With Lowcountry Technologies, it's never a challenge to understand your monthly IT costs. Budgeting for growth is simple! We provide the highest quality IT service in the industry because our goal is to keep your network running at top efficiency. Not only does our affordable pricing help you understand how to budget, it also gives you a transparent view of exactly what you're paying for.
Contact us for a quote today! We're available and ready to help you make the best decision for your business.
GET A QUOTE
Let's Get in Touch
LET'S TALK ABOUT YOUR BUSINESS IT SERVICES NEEDS